We are delighted to announce that the EVE Larine Centre in Maynooth are the 2014 winners of the Spirit of St Patrick Award.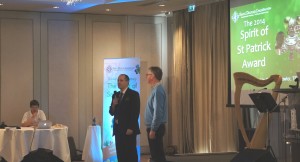 EVE is a programme within the HSE, who's primary ethos is is to provide community-based recovery-orientated programmes for adults who experience mental health difficulties, intellectual difficulties, Asperger's Syndrome, and Physical and Sensory disabilities.  Through its garden centre, community/centre based Art Projects, Kitchen/Dining Room activities and Wellness/Recovery programmes EVE Larine provides its participants with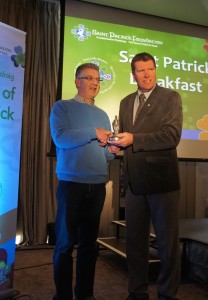 hope inspired recovery-oriented programmes and services that make a huge difference in the lives of those who attend.
The Award was presented at the Saint Patrick Breakfast in Carton House on the morning of March 17th 2014 by Anthony Lawlor, TD and received on Larine's behalf by Mr Paul Dowling, the acting Centre Manager.
Eve have been know in recent years for wonderful St Patrick's Day parade floats. It was no surprise, therefore, that when the Award was  presented again during the Maynooth Parade  Tina came forward dressed as a sweet!
Our warmest congratulations to Paul and his team and we wish them every success as they enjoy the company of St Patrick over these next 12 months.
Category: SOSP Award