The Story with our Logo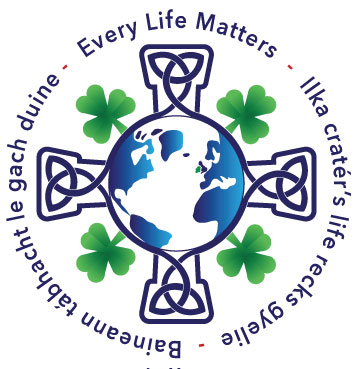 The Patrick Project logo takes its shape from the ancient stone crosses of Patrick and his followers. At its centre lies our world, surrounded by our national symbols and by the Celtic cord which speaks of God's unbroken love for us. Within the sign of that love, the cord is then woven into trinity knots representing God's three-fold nature and the origin of all our community. It was this that Patrick so famously illustrated using the shamrock.
Our logo, then, envisages a world that is embraced and cared for both by God's love and by all who regard themselves as the children of this island.
Our slogan, "Baineann tábhacht le gach duine" in Irish, and "Ilka cratèr's life recks gyelie" in Ulster Scots, captures the central truth that shaped the life of Saint Patrick and now shapes the work of both the Patrick Project and the Saint Patrick Foundation as a whole. It translates into English as 'Every Life Matters.'